World and National Champion Dogs
2010 Bristol, Canadian Dryland Championships
1st place both days - avg speeds 20-25mph
Eagle Sled Dogs is a 5 dog kennel of racing German Shorthair Pointer,European Pointer and Greyhound crosses located in Osborn Maine run by Christina Dawn Eagle. We have fallen in love with our dogs and their driven spirit of competition so much that having dogs to share life with is just as important as the air we breathe. To live without them would be like living without a heart. They are mirrors of the soul and I am humbled by their courage, grace, strength, determination and passion for life on a daily basis. They have inspired us to live bravely. Our long term goals are to be top finishers in 4-Dog Pro and Canicross competitions, then use our Champion dogs to breed, and raise the next generation of world class dogs with a deep pedigree of proven success whom are genetically sound, strong, focused, fast, intelligent, well-socialized and top placing finishers.
Home of Eagle Sled Dogs
wrapped in a double rainbow
Detailed Pedigree Site for Eagle Sled Dogs (Dogtec site)
We are committed to spending equal time socializing our pack and training our racing teams. We require all of our dogs to get along well in a loose play setting & we have a fenced in acre for our dogs to run in for a free play area. Everyone has a house that is insulated with 1" foam and plenty of dry oat straw throughout the fall and winter. If I do choose to breed, factors I consider include in-harness ability and drive, racing performance, pedigree, intelligence, sociability, temperament and trainability.
2010/11 SEASON SPONSORS:
GOLD
SILVER
BRONZE
Playing in Osborn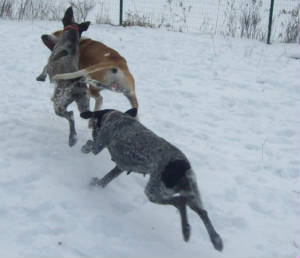 Laredo, Spongebob and Miss Puff
1st in 4-Dog Pro
2010 Fair Hill Challenge
NESDC Auburn Rig Race 2009 - 17mph average
1st-beat 1st bikejourer by 43 sec's, tied 1st 4-dog rig time